Head Teacher's Welcome
On behalf of our school community I would like to extend a very warm welcome to St Michael's Church of England Primary School. Welcome to our school website! It is a pleasure to have this opportunity to introduce you to our school and I hope you will find that the information is interesting and helpful in answering any questions you may have.
St Michael's is a happy and caring place where we have high expectations of all our children. We really value the joint partnership between home and school and see your child's learning journey through their time with us as a joint venture between you and all members of staff here at our school.
A strong Christian ethos encourages responsible behaviour and respect for others, in the context of Christian belief and practice. Our ten Christian values are at the core of everything we do. We use these values to be the very best we can be and achieve our potential in an environment where we feel valued, cared for and secure; an environment that believes in us and we believe in it.
Visitors are always welcome. Please do not hesitate to arrange a time to visit the school or telephone if there is anything you would like to ask us.
Mrs Naomi Weaver
Headteacher
During the Covid-19 Pandemic, we would still love to welcome you to our school but things are a little different. Please get in touch with the School Office and we will help you make the most of the options we have to welcome you to our school.
1:1 TEAMS meeting with the headteacher. We do not offer group meetings or tours because we believe in the personal touch.
Guided tour with headteacher after school.
Phonecall.
Video and photo of school site.
We are thrilled to announce that we are an EXCELLENT Church School!
Latest School Events
There are currently no events.
Calendars page(s): School >>
To help prospective parents understand what our school is like in normal circumstances, we have left the photos below which date back over the last few years. We hope that this will give you a good idea of some of the things we do in school and what makes us special and different to other schools.
Autumn 2020 - learning and fun in Reception...lots of time outside and exploring. We have three adults in the class with 30 children so the children can access all the spaces and opportunities set up for them.
Autumn 2020 - Year 1
These photos show how we try and make learning fun for all the children with lots of talk. For the last two years, Year 1 children have had a new transition where the children are given a Reception type experience in Year 1 - it has worked really well and we have had settled and happy Year 1 children.
Autumn 2020 - Year 2 - lots of Outdoor Learning and a real focus on growing. We have been able to sell produce in our own Farm Shop. Year 2 also have completed lots of STEM challenges - science and technology.
Autumn 2020 - Year 3 - Outdoor learning a plenty including a special breakfast with toast on the fire. Art outdoors has also been a focus for Year 3. Year 3 have been brilliant at demonstrating our value of koinonia - working together in our school community.
Autumn 2020 - Year 4 - Year 4 have been working hard with different Maths equipment as well as making bread on the fire. We have our own cricket coach who has been helping them learn catching and throwing.
Autumn 2020 - Year 5 - the Year 5 have produced some amazing art this term. The Year 5 are based in our new classroom. Every class has at least two adults in throughout the day - these helps support all children in their learning.
Autumn 2020 - Year 6 - these children each have an Ipad and now work 1:1 with the devices. This has had a brilliant impact on learning in the classroom but also as part of remote learning in the current climate. Year 6 also work with the elite Hull League Rugby Club each week.
Christmas 2019...so much to be part of...
November 2019 learning...
September 2019 learning...
Isle of Wight Residential - Summer 2019
Summer 2019...learning, Love Your Parish walk, outdoor learning at Whisby and Church Schools' Festival.
Learning...May 2019...Cresswell Crags, Outdoor Learning and Post SATs celebrations!
World Book Day - dress a potato as a book character - March 2019
Tough Mudder - February 2019
Puddle Jumping - February 2019
Christmas 2018...koinonia at its best!
Christmas...Our Christingle Service, Christmas Parties and carols at the church.
September 2018...Welcome Back!
Tough Mudder and Puddle Jumping - Feb 2018
Some of our learning this week...Feb 2018 E-safety week
London Residential - June 2017
Collective Worship this week has been about...
We went to church to think about prayer, trust and God. When we prayer we are putting our trust in God and trusting that he can hear and listen. It's hard to trust something that we can't see - a bit like the water and card idea....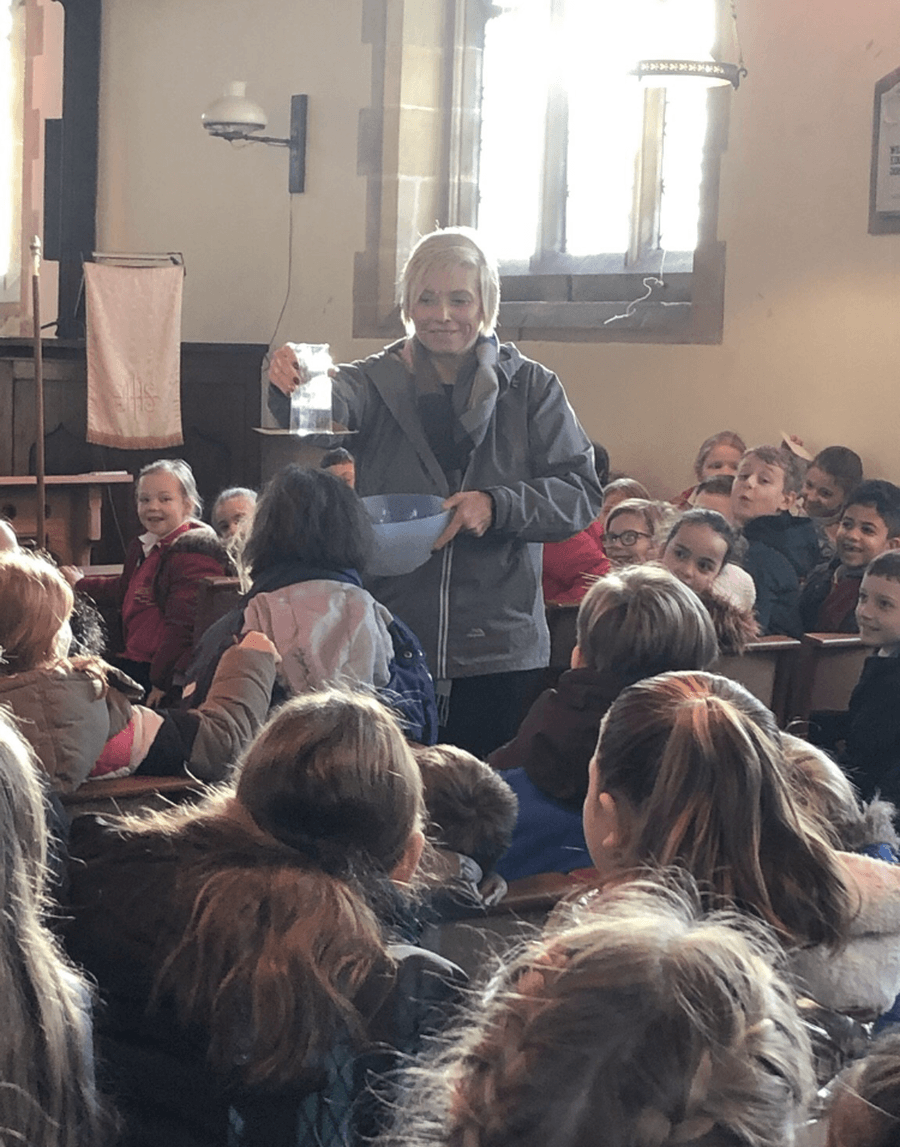 Mr Sanderson explored how people have to place their trust i many things. We watched a clip from Top Gear - would you bungee jump off a bridge in a car? We talked about who we would have to trust - we put a lot of trust in God!!!
Do we trust everything we read or are told? Are the stories always true? Who should we believe? Ask your child about some of the amazing true stories we talked about this morning!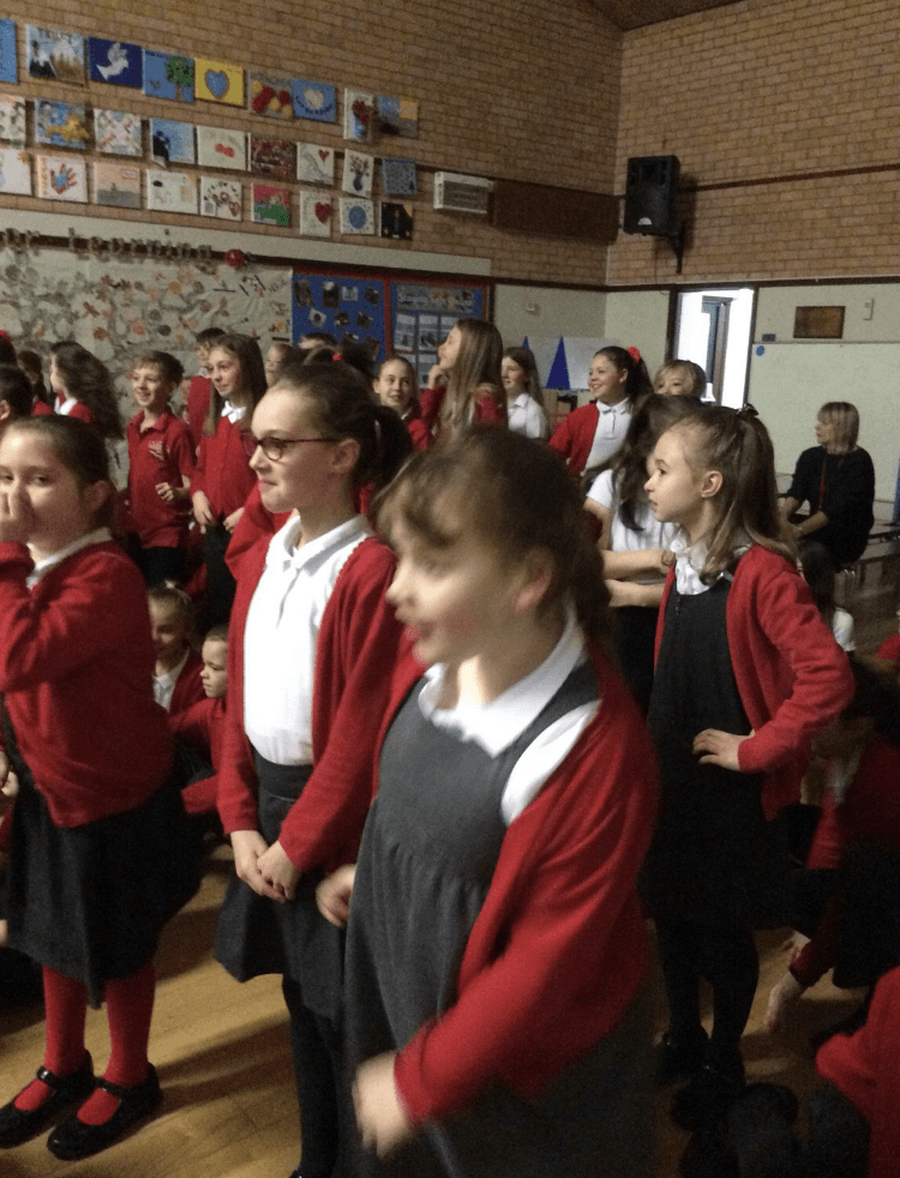 We are grateful for our Christian values and we have celebrated them this week by looking in more detail and making new canvases to remember them. Mrs Weaver always says that she is amazed by how we remember the values with new ideas.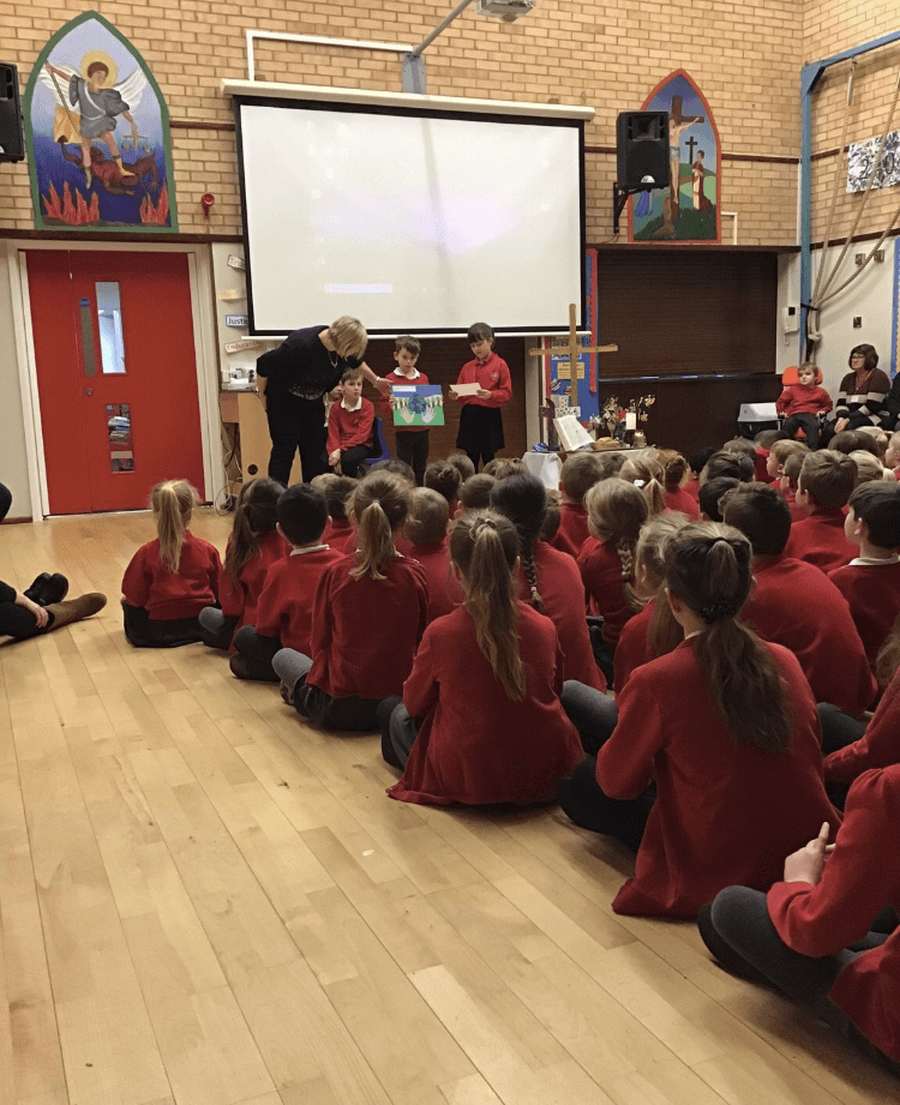 Revd Vaughan led a worship this week - we continued to think about trust and he looked at a question which Declan asked - Does God trust us?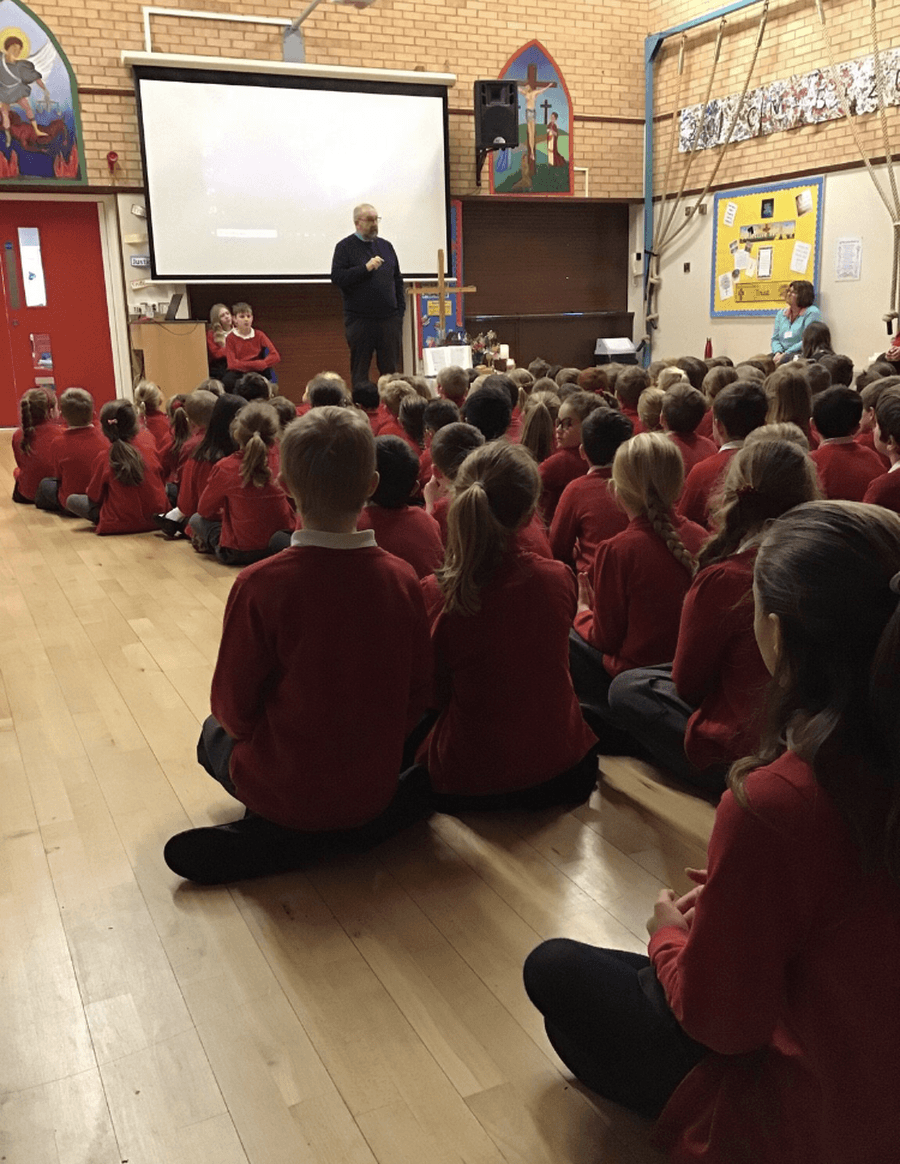 Trust - we have launched our new value - 'Trust in the Lord'. Trust is about putting our trust in others - it can be hard to trust.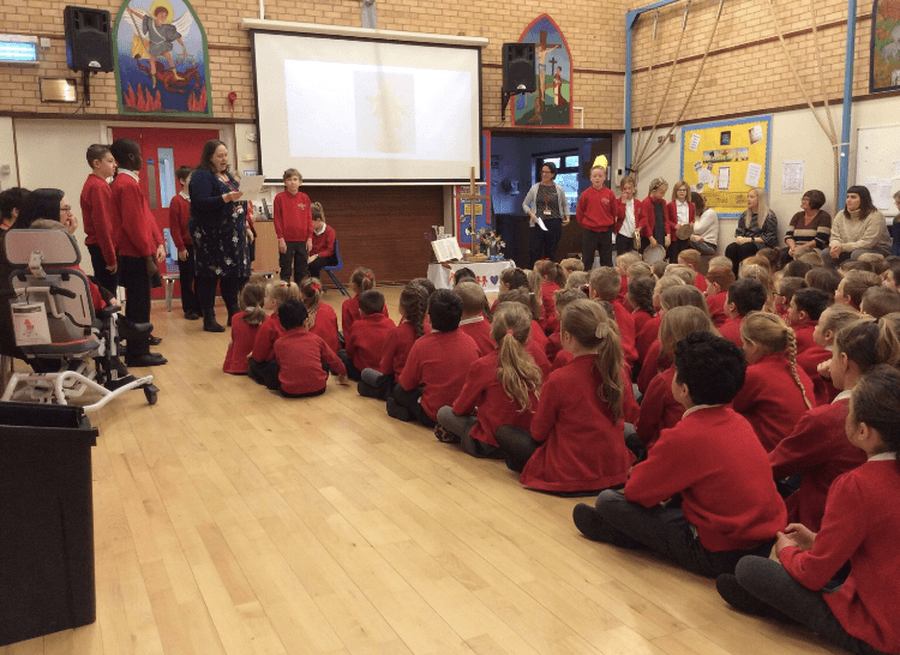 Welcome back! Happy Epiphany! CMB2020 - Christ Bless This House. We have looked at the Festival of Epiphany this week and thought about the visit of the 3 Kings.
Happy Christmas!
Worship has been a little different this week..we worshipped together as part of having fun at parties; we celebrated with whole school Christmas dinner and thanked God for being together; the whole school went to the panto together and then we finished the week with a Christingle and carols at church. Much of this week has been about koinonia and being together at this very special time.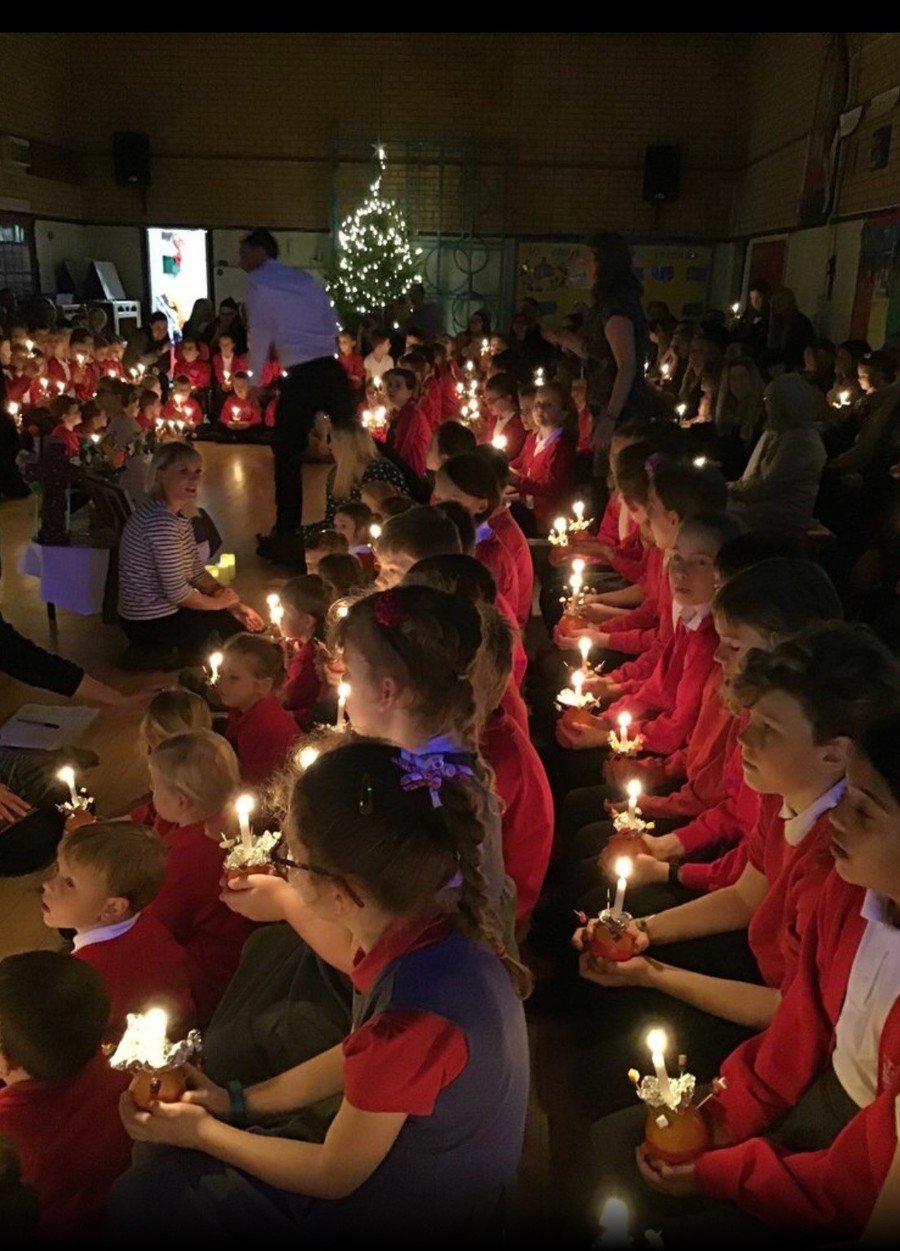 More Christmas...we have continued to develop our understanding of the Christmas story this week and looked at some of the traditions behind Christmas within worship. We have all used Godly Play to help us understand worship further.
It's Christmas - the Imps have helped us to launch advent with their nativity and thinking about the Christmas Story. We have looked at some of the traditions of advent and have started our advent candle - we are waiting with excitement for the arrival of Jesus!
Thanksgiving - Americans celebrate being thankful during this time - thanking God for all that they have, celebrating with one another. We looked at the compassion shown by the native Americans to the first Pilgrims.
Anti-bullying week - be the change you want to be - compassion and humility featured highly this week. As well as self belief - much of Collective Worship has been about living out our vision - being the best we can be.
Remembrance - we celebrated and remembered with the village. Worship was held at war memorial in the village. year 6 led us in prayer and we all laid handmade wreaths. We will remember them.
Who is humble? Can you be humble?
Did you see the Rugby World Cup final? The South African captain was extremely humble...he was brought up in a township and never thought he would achieve anything. Right up until lifting the cup, he didn't think he should do it...another example of real life humility.
Humility - what does it mean to be humble? We thought about jobs that Mrs Weaver does..Mrs Weaver never says that it is somebody else's job...she is always willing to help and do everything that she would expect others to do...this is real life humility.
Harvest Festival - we celebrated harvest in our classrooms by thinking about our community...we made hampers for our village and donated the rest to Lincoln Larder.
Our parents joined us for worship where Year 6 supported us with their parable telling again.
It was a lovely harvest festival - thank you for joining us.
The Imps joined us this week for their first worship in the hall - it was lovely to welcome them and celebrate koinonia together.
We looked at how Peppa Pig endures - we watched a clip of them all working together to make a new playground.
This week, Year 6 led worship and looked at the Parable of the Sower. We were each given seeds to take home to grow - will they endure and will they grow, no matter what?
Welcome Back! Collective Worship has been about us and all that we have done over the summer holidays! Mrs Weaver shared her holiday snaps and we thought about our experiences with friends and family.
We launched endurance and read the story The Dandelion Seed's Big Dream - what a journey the see had and the difficulties on the way, but he never gave up, he had faith and he believed - believe and achieve to be the best that we can be, god will guide us just like the dandelion seed.
Our last few weeks have been about faith and believing in ourselves as we move on...believe and achieve to be the best that we can be!
1.7.19 - Social justice is about fighting to make things fair and right...how do you help to protect and look after the environment where you live? We thought about this when we watched this clip...
24.6.19 - David and Goliath - we have focused on this bible story all week with Year 2 performing it for us.
Have a think about how strong David was in his faith when he fought Goliath.
17.6.19 - this week, Mrs Weaver launched the week with Paw Patrol and how they were like the disciples always helping and fighting for what's right...Ryder was like Jesus. Mrs Blanchard included some of us in thinking about fair weather friends and how we want to be friends all the time - we then responded to her prayers.
10.6.19 - we have been thinking about how we can help others, those less fortunate than us. We prayed for projects across the world but also thought about flooding in Wainfleet.
3.6.19 - this week we have launched our new value of justice...we have begun to think about fairness and ensuring that all have the same opportunities including those less fortunate than us.
We celebrated our value of koinonia by spending a whole day at the beach as a community, together.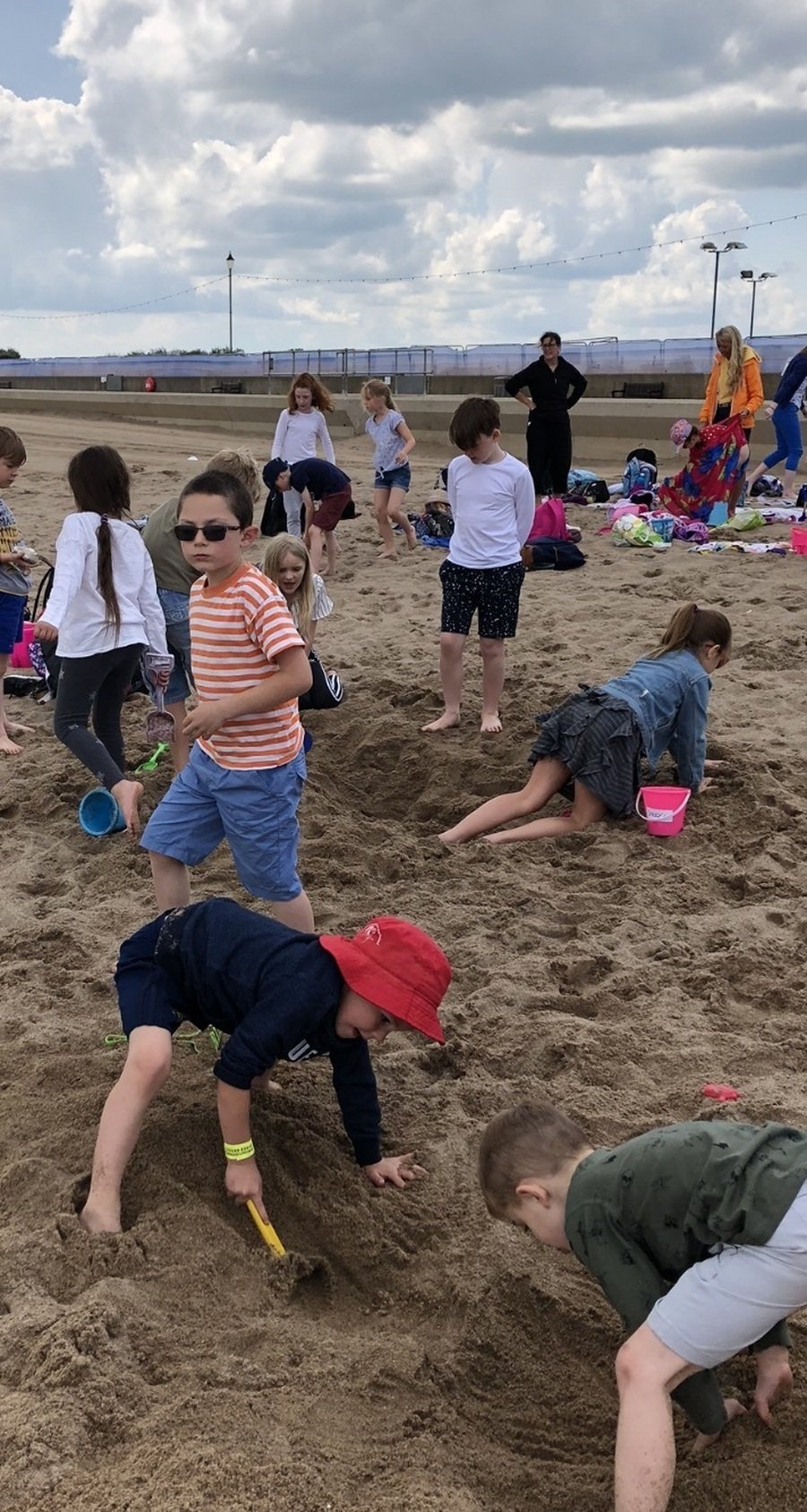 20.5.19
This week Worship Council led a worship to help us think about worship more...
13.5.19
This week, we have held worship in classroom although we had an amazing worship singing our favourite songs...the atmosphere was electric!
We have thought about compassion and taking care of ourselves as it is has been SATs week. We have had time to reflect and be quiet and calm.
7.5.19
We have been thinking about the creation story this week. Hedwigs led a great worship and helped us to understand this story. We thought about creation stories from around the world.
29.4.19
Collective Worship has been about the differences between Compassion and Forgiveness - we used Beauty and the Beast as a story to help us to understand this. Why not use this link to have a chat at home?
We have also looked at rules and thought about the British value - rule of law - we had an interesting quiz to make us think!
23.4.19
The first week back after Easter has seen has launch our new value of Compassion as well as look at the resurrection - the flowers on our cross have died. Mrs Blanchard launched compassion with links to the story of Mog.
This week we started by Collective Worship Council leading worship about forgiveness - we used balloons to look at the importance of saying sorry and letting something go so that we are not burdened by anger/hatred. We released balloons into the ceiling. Talia also wrote us a reflection. Mrs Weaver looked at the meaning of the cross and how this links to Easter - we looked at the cross meaning being wrong but also God loving us as he forgives. Some of our pianists played for us this week and we finished off the week with Noah's Ark from Year 1 and singing some of our most inspiring songs - Sing and Wavin' Flag - it was a very spiritual moment in the hall!
it's been a really interesting week for worship this week...Mrs Johnston, one of our Governors joined us this week. Some of the older children thought about the New Zealand attack and we prayed for those affected by this including #we stand together using the Prayer from Lincoln Cathedral. The responses were mature, thoughtful and made us all show some real humility and compassion. We continued the week by thinking about Holi and Year 1 continued reflecting on this. We worshipped in classes this week and used our School Prayer which the CW Council launched during Prayer Week. Finally the CW Council presented us with our new altar cloth which we welcomed formally as part of worship.
Worship was thinking about Fair Trade this week...poor James, Mrs Weaver gave away his Pokémon cards for an unfair trade...he was very forgiving! We looked at how farmers work together under a cooperation for the good of all. We continued to think about Lent and Caitlin made us the Lent letters to reflect. Finally we looked at the importance of forgiving ourselves when we do something wrong as this has an impact on our well-being.
We worshipped this week by looking at The Lord's Prayer and how forgiveness is so much part of this. We prayed together by using actions and movements to try and remember the Lord's Prayer but also to develop our thinking that prayer is more than just putting our hands together and closing our eyes.
We have also thought about Lent and how we need to be prepared just like Jesus! Mrs Blanchard and Year 6 have begun to think about a Lent challenge to support our community project.
This week we have launched our new value of forgiveness. We have thought about forgiveness being a gift from God where He always gives us forgiveness. If we forgive people then you will have love, God's love and he will guide us and help us in this quest. We have linked forgiveness to thoughtfulness and caring about others. Some of us have had forgiveness tokens to share with our friends...we hope that we won't need them all!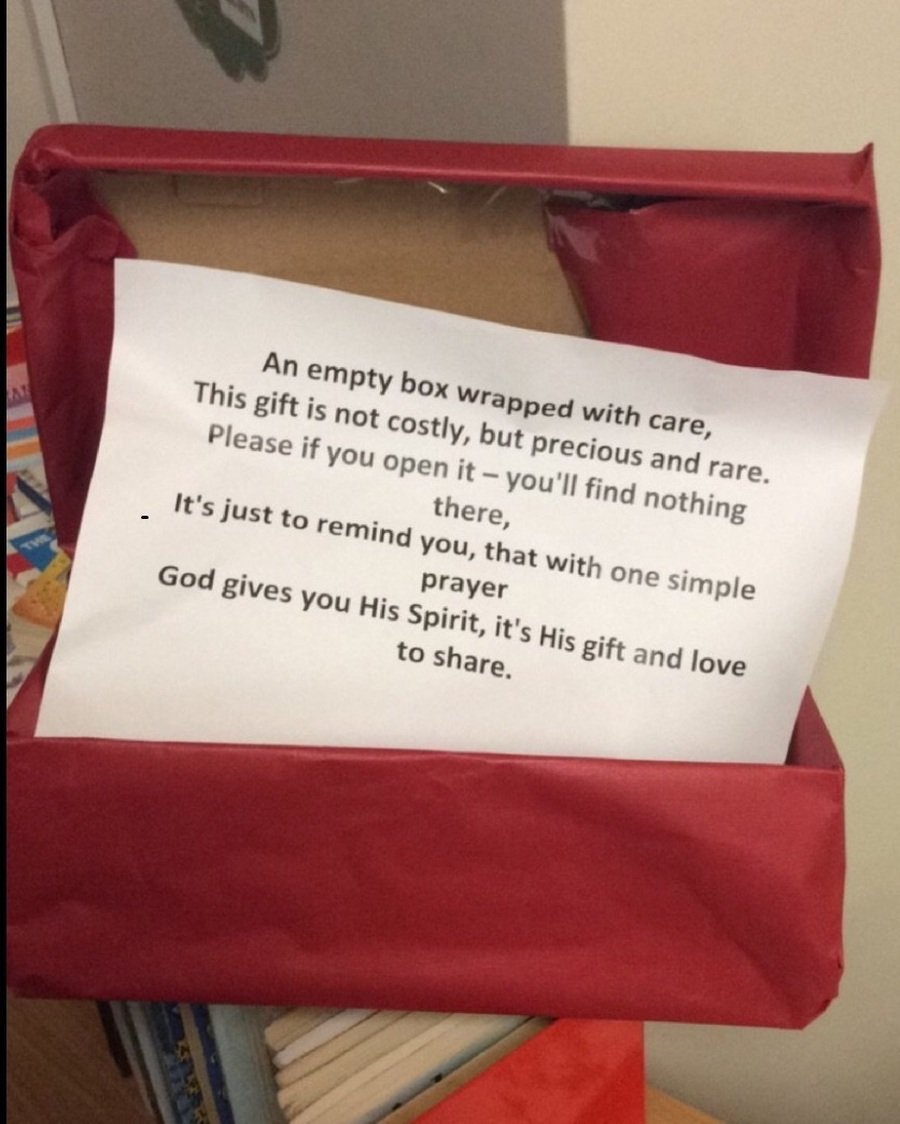 We have finished thinking about thankfulness this week and being thankful for all that God has given us and being thankful for experiences and opportunities. We have thought about our worship at different times this week including when we visited Whisby - being thankful for Whisby but also being thankful for people who take good care of Whisby and help us to appreciate it.
This week has been about thankfulness for communication and keeping in touch with our families and friends across the world. We have also looked at the importance of looking after ourselves on the Internet and how we keep ourselves safe - respect.
Baptism...the story of Jesus' baptism, a Christian Baptism at Church and understanding the symbolism whilst refreshing our ideas about the Holy Trinity.
This week, we have focused on Prayer. Collective Worship Council led worship and we thought about prayer being invitational and inspiring. We also took part in many more activities to ensure Collective Worship was more than just our 20 minutes in the morning! A new school prayer is evolving too!
In Collective Worship, we have focused on choice and individual liberty linked to justice. Mrs Weaver helped us to think about the way that God can help us to make good choices and guide us in this linked to our motto of believing and achieving to be the best we can be!
We have been learning, celebrating and valuing our values this week...where do they link to life, how are they depicted in the bible?
This week has been about Advent and setting the scene for the coming weeks...we now have an advent candle lit everyday!
Collective Worship has focused on the Prodigal Son. Year 3 led worship and retold the story as well as leading us in prayer about valuing and caring for all, no matter what!
As part of worship this week, a member of the Jewish community joined us...
We have looked at our value of peace this week...looking at the Calming of the Storm, thinking about our inner peace and mental wellbeing...worship was inspirational this week!